Advanced Single & Multishot instrument
High precision instrument with superior strength
The DeviShot is a downhole survey instrument used to measure the drill hole path, in a non-magnetic environment.
The DeviShot is operated by an android application with intuitive step by step operation, also offering all the functionality needed for advanced users.
An IP67 rated Nomad PDA or an Android smartphone are utilized to initialize, activate, display results and store survey data from DeviShot.
Enjoy superior
strength and high precision
combined together.
Magnetic Single/ Multishot
DeviShot offers a rugged instrument, measuring the drill hole path, in a non-magnetic environment.
With the core barrel removed, DeviShot is run through the drill bit and extended into the open hole. Two Aluminum rods attach to DeviShot and ensure a safe "non-magnetic" distance from the drill bit. A landing collar attaches to the Aluminum rods preventing the assembly from passing through the drill bit.
Standard and peewee sizes
DeviShot is available in the standard 35mm diameter or in 30mm smaller diameter requirements projects
When technology and high precision combined
Learn more about DeviShot proven specialties in great accuracy and extra long life battery.

Find the unique ability to check battery status without having to leave site, and the convenience for having quality control on your hands
Each survey data point is independent of the other.
Provided magnetic readings are removed, the survey accuracy is very high (better than 1:1000)
Long life 1200hrs internal replacement battery means DeviShot can remain at drill site without requiring charging up to 6 months
Ability to check battery status
Battery status for the tool and handheld device is visible anytime for checking to ensure survey can be done without delay and with reliable result quality
Quality control on your hands
Preset Total Magnetic Intensity (TMI) and Magnetic Dip thresholds ensure every data point is validated at the drill rig, saving time and improving data quality checking.
Any data point affected by ferro magnetics or the presence of steel are flagged in red
Magnetic or Non-Magnetic Tools?
We got both covered
Whether you work in a magnetic or a non-magnetic environment, we have
the perfect survey instruments for your every needs
DeviShot survey instrument is used in a non-magnetic environment
DeviFlex Rapid survey instrument for usage in rods or near ferro-magnetic material
Diamond Drilling Wireline Pump down or conventional

Surface Diamond Drilling – Wireline

Geotechnical Investigation
Highly robust, repeatable and reliable

Simple and intuitive software

QA check Azimuth data at the rig

More cost effective and robust than gyro instruments

Independent azimuth and dip reading at each station

Long life battery lasts up to 6 months

Backed by the unbeatable Devico Repair Guarantee (see "More" page for more information)
Diameter: 30 or 35/ 1.18″ or 1.38″

Pressure: 500bar/ 7250psi

Temperature range: -10° to +70°C

Azimuth accuracy: +/-0.5°

Inclination accuracy: +/-0.1°

Tool face accuracy: +/- 0.2°

Inclination range: -90° – +90°

Effected by magnetics: Yes

Magnetic vector: Recorded

Data communication: Wireless or cable

Battery type: 2x 3.6V Lithium

Battery capacity, continuous use: 1200 hours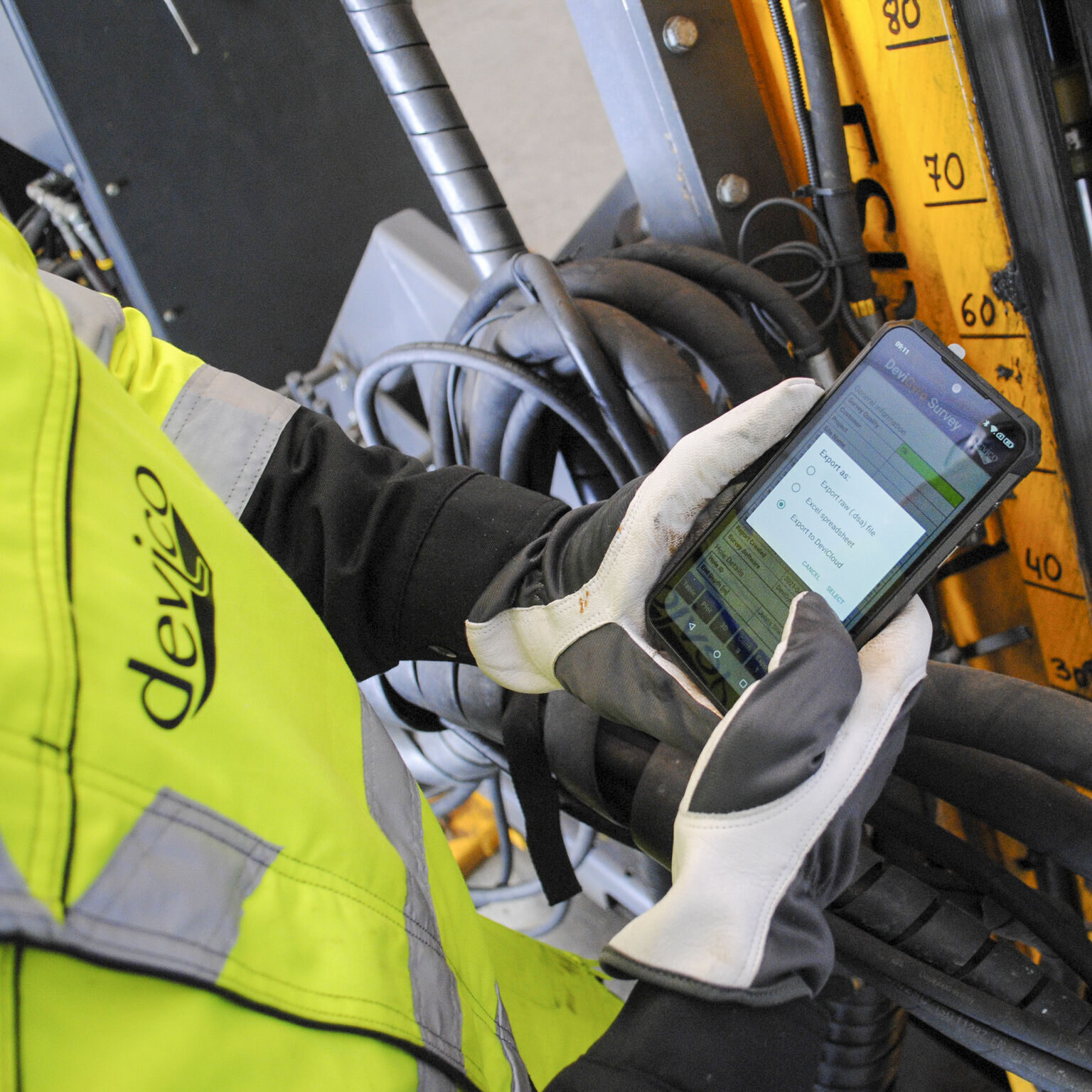 Transparency. Security. Simplicity. That's survey date managed through DeviCloud
Frequently asked questions